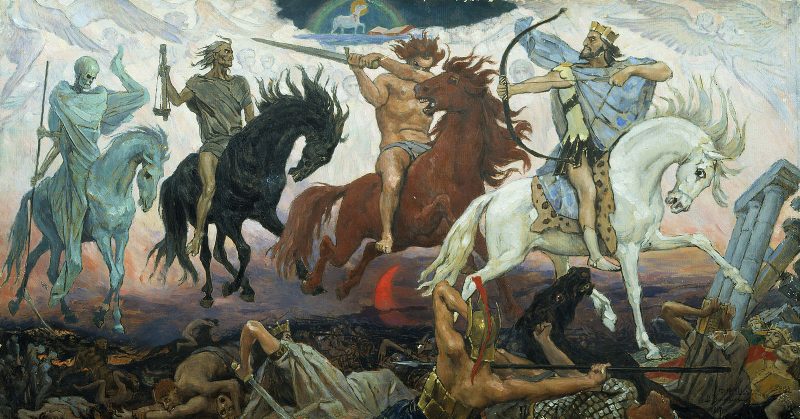 Most people still don't realize this, but the truth is that we have entered an apocalyptic time in human history. War, natural disasters, disease outbreaks, economic problems and civil unrest are all in the headlines on a daily basis already, and they are all going to be a bigger part of our lives moving forward. Those that have been hoping that our lives would soon "return to normal" will be greatly disappointed, because what we have experienced so far is just the beginning.
Now that the warmongers are back in control in Washington, we should expect a steady stream of war rumors from now on.
This week, we are being told that the Biden administration is quite eager to make the Russians "pay" for the Solar Winds hack that was first reported last December. According to the New York Times, the Biden administration is getting ready to initiate a series of "clandestine" cyberattacks that will seriously hurt Russia…
The Biden administration is gearing up to carry out cyberattacks aimed at Russian networks, the New York Times has reported, describing the provocation as a retaliatory measure designed to send Moscow a message.

Citing officials familiar with the operation, the Times said that a "series of clandestine actions" aimed at Russia is expected to begin over the next three weeks and that the cyberattacks are intended to be "evident" to President Vladimir Putin and Russia's intelligence services, but not to the "wider world."

The attack will likely coincide with new economic sanctions against Moscow, as well as an executive order from President Joe Biden that would bolster security for US government networks.
If the Russians were not the ones behind the Solar Winds hack, they are going to be extremely upset at being attacked for no reason.
A cyberattack is most definitely an act of war, and the Biden administration is taking us down a path that could ultimately lead to military conflict with Russia.
Meanwhile, the U.S. is also promising to strike back against pro-Iranian forces for a missile attack that recently hit a military base in Iraq where U.S. troops are stationed…
The United States will do what it views as necessary to defend its interests after a rocket attack against Iraq's Ain al-Sada airbase, which hosts American, coalition and Iraqi forces, US Defense Secretary Lloyd Austin said on Sunday.

The attack, which was the second in several weeks, took place earlier in March. Pro-Iranian militias were believed to be responsible for the incident. The US attacked several sites in Syria affiliated with Shiite militias shortly after the first incident in February, in which a contractor was killed.
We don't know exactly when the U.S. will retaliate, but there was a "show of force" on Sunday…
Israeli F-15 fighter jets escorted two American B-52 bombers through Israeli airspace on Sunday in a new show of force by the United States against Iran — with an Israeli element — amid rising tensions in the region.
Meanwhile, things continue to get even more tense between Iran and Israel.
Yesterday, I discussed the fact that Israeli Defense Minister Benny Gantz is openly threatening to bomb Iran if the Iranians do not stop their nuclear program.
Of course the Iranians have no intention of backing down, and on Monday Iranian Defense Minister Amir Hatami responded to Gantz by threatening to "level Tel Aviv"…
Iran has responded to a Fox News interview from late last week wherein Israeli Defense Minister Benny Gantz said that Israel is currently updating its plans to strike Iran's nuclear program and is prepared to act independently if the United States is not willing. The interview was unusually blunt even for Israel in terms of the defense chief openly stating war plans.

Iranian Defense Minister Amir Hatami promptly fired back with a counterthreat on Sunday. He said Iran's military will level Tel Aviv and Haifa should Israel do anything "out of desperation".
As I have consistently warned, it is just a matter of time before a major war erupts in the Middle East, and it will be truly horrific.
At the same time, our planet is shaking like we have never seen before.
After getting hit by three giant quakes the other day, New Zealand was just rattled by a magnitude 6.6 earthquake…
New Zealand has been rocked by a 6.6 magnitude earthquake off its east coast just days after a string of quakes in the same region sparked tsunami fears and mass evacuations.
On the other side of the world, Iceland has been shaken by over 20,000 earthquakes…
More than 20,000 earthquakes have rocked southwestern Iceland between Feb. 24 and March 5, according to the country's meteorological office.

On Sunday alone, the Icelandic Meteorological Office reported about 2,800 quakes, including one that struck with a magnitude of 5.0.
What we have been witnessing is truly unusual.
During the first 65 days of 2021, there have been 42 earthquakes of at least magnitude 6.0. What many people do not realize is that this is an enormous increase over previous years…
The number of earthquakes is increasing. In the first 65 days of 1921, exactly one century ago, only seven major quakes, magnitude 6 or higher were recorded globally according to the USGS DataBase. In the same period last year, a total of 24 major quakes, magnitude 6 or higher were recorded around the globe. Back in 2019, just 20 major quakes had been reported up to March the 6th, just 50% of this year's total. In 2018, a total of 24 major quakes were reported in the first 65 days of the year and in 2017 just 15. 24 major earthquakes were recorded in the beginning of 2016 and in 2015, just 18.

While acknowledging that there is a marked increase in seismic activity, the authorities claim there is nothing to worry about.
In fact, in all of recorded history there has never been so many major earthquakes during the first 65 days of a calendar year.
Unfortunately, the shaking is only going to get worse.
At the same time that our planet is becoming increasingly unstable, a virulent new COVID strain known as "P1" is absolutely ravaging Brazil…
The country is in crisis with victims dying in chairs as hospitals have been overwhelmed – and doctors say they face a "tsunami" of new infections thanks to the more contagious P1 variant. Brazil has seen a huge Covid spike since the start of February, which has been blamed on a mutant strain that emerged in jungle city Manaus.

Average daily infections are 30 percent higher than the devastating first wave and deaths are up by 32 percent, O Globo reports. In some areas, the rise is over 50 percent. On Saturday Brazil recorded 1,443 deaths and more than 60,000 new infections.
Scientists have discovered that P1 is highly resistant to existing vaccines, and so that is going to be a major problem as P1 continues to spread to other parts of the globe.
In fact, it has already spread to at least 25 other countries, and that list includes the United States.
Sadly, this is certainly not the last major pestilence that we are doing to have to deal with.
We have entered such a dangerous time, and things are really going to get crazy in the months and years ahead.
But most people still don't understand what is happening, and for the moment ignorance is bliss.
Källa: http://themostimportantnews.com